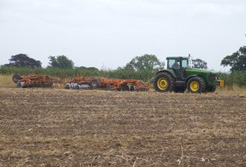 Hartswood farming specialises in the following:-
Stubble to stubble contracts
Spraying with a Househam 4000ltr self propelled sprayer with 24 metre booms with GPS guidance. Either spraying or liquid fertiliser applications with high output pump. Also available with support bowser when needed.
All drivers are fully trained and are NROSO registered.

Hartswood farming is always seeking arable and grassland to rent on long or short term agreements.

Call us to discuss:

01283 840 246

Fertiliser application, either 12 or 24 metre with variable rate spread and auto calibration to give precise applications.
2 x Simba Solos 3.8 metre with following DD press to leave a level firm weather-proof seedbed.
Subsoiling with 5 leg subsoiler
Drilling with 6 metre Vaderstad drill
Vaderstad 6.5 metre Carrier System disc
Power harrowing with 3 or 4 metre machine
Ploughing with 5 furrow Kneveland plough
Rolling with 8.3 metre Cambridge rollers
Rolling with 6 metre flat folding rollers
Spearhead 4.6 metre heavy duty topper for grass or set-aside
Combining with Claas Lexion 760 terra trac rotary combine with 30 ft Vario header and detailed yield mapping. This combine does not smash the straw like other makes and leaves a good baling swath. And with the vario header when cutting rape reduces grain losses considerably compared to other combines.
Baling with a high density Claas Quadrant 3200 baler. Wrapping available.
Mole ploughing
2 x centre pivot JCB telescopics with various attachments
Claas self propelled forage harvester for grass or maize.
Mowing with front and rear John Deere mowers
Grass tedding.
Grass rowing up with twin rotor machine
18 ton Larrington Grain or silage trailers all on large floatation tyres making them excellent in wet conditions, reducing compaction and rutting compared to trailers on super single wheels.
Tractor and loader with various attachments
Tractors from 160 to 380hp available with drivers
3500 gallon slurry tanker, with flotation tyres and 6 metre trailing shoe, includes 8 inch self loading arm for speed fill
15 ton Bunnings rear discharge spreader with slurry door
Hedge cutting with McConnell pa65 high reach machine with 1.5 metre head
Mobile cattle race with head yolk and weigh platform. All access.
Tree felling and forestry operations carried out.
We also mend most B.S.P hydraulic hoses.
Welding and fabrication work undertaken
All staff are trained and experienced operators.
Grassland subsoiling with Sumo GLS subsoiler