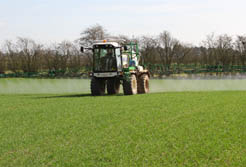 At Hartswood Farming we offer a precision farming service.
We offer soil sampling.
Full farm mapping of nutrients.
Precision variable rate application of both sprays and fertilisers.
With precision applications you only use what you need.
Increase yields therefore increased profits.
This is all proven to save money for your business.
Whole field nutrient mapping to aid precise placements of nutrients.
The claas Lexion is fitted with detailed yield mapping to help highlight good and bad patches in the fields. This will aid management of the poorer areas to achieve better yields and generally monitor what corn is going in to store.