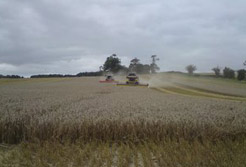 At Hartswood farming, as well as farming our own ground, we rent various blocks of ground on long and short term agreements. Whichever is best for our land owners. We believe in farming the ground to the highest standards and in an environmentally friendly manner.
We can offer agreements to suit the landowner from farm business tenancies through to joint ventures and contract farming or any other agreements to suit.
Hartswood farming always carries out its work professionally with well trained staff and modern machinery.
We offer practical advice supported by professional people who are open minded and flexible in there approach.
We can offer a full agronomy service to help you get the best advice and best prices on products needed.
By choosing Hartswood Farming, you could benefit from our buying group to get better discounts on goods such as sprays and fertilisers and various other products.
ARABLE AND GRASSLAND ALWAYS WANTED ON LONG OR SHORT TERM AGREEMENTS.