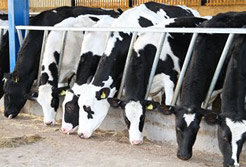 Hartswood farming is a third generation family run business which has been established in Abbots Bromley since 1945. We are a family run farm of dairy, arable and beef. There are also three sheep flocks. The farm at present covers around 2000 acres in the surrounding area. Hartswood farming also has an extensive contracting business, covering all aspects of farming needs.
We currently run a dairy herd of 220 Holstein Friesian cows all housed and milked in modern up to date facilities both for cow comfort and for operator ease. All beef cattle from the herd are reared on farm through to finishing to high welfare standards to give the best quality beef we can.
There are two sheep flocks on the farm. There is a flock of pedigree Texel sheep. These are either sold for breeding or are reared for fattening and sold to local butchers. There is then a commercial flock of 300 breeding mules.
Hartswood farming runs an extensive contracting business covering all arable and grassland work. From straight forward contracting up to whole farm contracts tailored to suit your needs.